Dr. Ankush Raut
M.B.B.S, DGO, CCDM, DNB
Dr. Ankush Raut
Obs & Gyn Infertility Management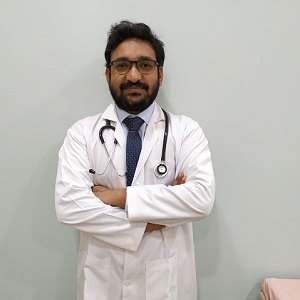 | | | | |
| --- | --- | --- | --- |
| Experience | | | Speciality |
| 10 Years Experience | | | Obs & Gyn Infertility Management |
| Location | | | Timings |
| Mumbai- Borivali | | | Mon - Sat : 9:00 AM - 6:00 PM |
76%Patient Satisfaction Score

Doctor Info
Detailed Experience
Dr. Ankush Nandkishor Raut is a practising Infertility Specialist and comes with a very rich experience of handling over 7000 infertility cases. Before joining Apollo Fertility, he worked with various esteemed Fertility Chains across India. He has an extensive experience in all infertility procedures like IUI, IVF, ICSI, TESA, laparoscopy, and hysteroscopy as well as advanced IVF protocols like IVF Lite (Mini IVF) and Segmented IVF (Freeze All approach). He has successfully handled large donor and surrogacy programs. Dr Ankush has a keen interest in research and is always on top of cutting-edge technologies and new developments in fertility treatments. He excels at developing unique, customized treatment protocols for infertility patients.
He has successfully treated patients with PCOD, Premature ovarian insufficiency, endometriosis, chocolate cyst, Low AMH, peri and postmenopausal women, uterine fibroid, endometrial polyp, adenomyosis, endometrial adhesions, recurrent implantation failure, a genetic abnormality in a parent or in previous child, recurrent abortions, low sperm count, azoospermia(zero sperm count), slowly moving sperm, morphologically abnormal sperm, sperm with high DNA fragmentation, premature ejaculation, vaginismus, impotence, recurrent IUI failure and many other problems related to infertility.
He has successfully implanted procedures like pre-implantation genetic testing (PGT), Laser assisted hatching (LAH), Blastocyst culture, Embryonic Uber (AI-Based embryo assessment), PICSI, Microfluidic Sperm Sorting, and other advanced technologies at Apollo Fertility Borivali.
He is much loved by his patients for his scientific as well as ethical, success-oriented approach to their infertility problems.
Consultant gynaecologist and infertility specialist at Indo Nippon IVF
Consultant gynaecologist and infertility specialist at Rajmata Jijaoo Hospital Airoli, Navi Mumbai
Awards and Achievements
1) 5TH In the PGDCET exam
2) Participated in the "Gynaec oncology" quiz in FOCUS 2015, Jubilee Mission Medical, College 17th Aug 2015
Professional & Memberships
Part I exam for Member of Royal College of Obstetrics and Gynaecology, Passed
Frequently Asked Questions
Where does Dr. Ankush Raut practice?
Dr. Ankush Raut practices at Apollo Fertility Hospital, Mumbai- Borivali
How can I take Dr. Ankush Raut appointment?
You can take Dr. Ankush Raut appointment by calling 1-860-500-4424 or by visiting website or walk-in to hospital.
Why do patients visit Dr. Ankush Raut?
Patients visit Dr. Ankush Raut for Obs & Gyn Infertility Management & more...
Ovulation Calculator