Dr. Nikita Lad Patel
MBBS, MD, DGO, FCPS, FRM, MRM
Dr. Nikita Lad Patel
Obstetrics and Gynaecology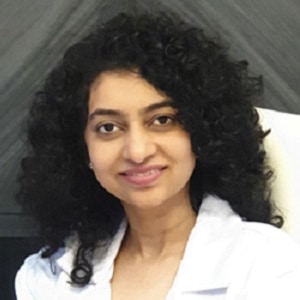 | | | | |
| --- | --- | --- | --- |
| Experience | | | Speciality |
| 18 Years Experience | | | Obstetrics and Gynaecology |
| Location | | | Timings |
| Navi Mumbai-Belapur | | | MON, WED & SAT : 10:00 AM - 2:00 PM |
97%Patient Satisfaction Score

Doctor Info
Dr. Nikita Lad Patel is renowned for her holistic and comprehensive fertility management for seeking couples. Her keen interest in the field of reproductive medicine from her early years has helped her exhale professionally and has enjoyed the continuous support of patients.
Has experience of 10 years as the Head of the Department of IVF managing all patients with world-class fertility protocols and practices to achieve great success rates, especially in patients with a previous history of IVF failures. Patients look up to Dr Nikita Lad-Patel for her honest, transparent and humane approach and commitment towards patients. She is not only skilled at her clinical work but also garnered with respect and adultation as a teacher and guide to fellow students who join her to learn the finesse of fertility management.
Educational Qualification:
Master's Certificate in Reproductive Medicine & IVF from Homerton University Hospital, NHS.
Fellowship in Reproductive Medicine.
"Obstetrics & Gynaecological Ultrasound & Foetal Heart Rate Monitoring" from N. Wadia Maternity Hospital.
Treatment & Services Expertise:
All ART procedures such as IUI, IVF, ICSI, follicular studies, ovum pick up, embryo transfer, testicular biopsy, Donor oocyte program, Donor semen insemination, and surrogacy.
Area of interest: IVF, PGS, fertility preservation
Training and conferences:
She has been honoured to be invited to talk on various finer and pragmatic approaches of fertility management and ways to overcome various challenges by fraternity and has been a speaker, moderator and judge at various regional and national conferences.
Research and publications:
Prevalence of hypothyroidism in infertile women and evaluation of response to treatment for hypothyroidism on infertility. – BJOG
Case study of using Gonadotrophin releasing hormone antagonist for improving clinical pregnancy rate in patients undergoing Intrauterine Insemination. – BJOG
A survey of awareness of fertility preservation practised among oncologists in India. – Asia Pacific Journal of Cancer Prevention.
Implantation Rates in Day 3 embryo transfer versus Day 5 blasto transfer: A prospective randomized controlled trial.
Co-author of ART Manual.
Professional Membership:
Mumbai Obstetrics and Gynaecological Society (MOGS)
The Federation of Obstetric and Gynaecological Society. (FOGSI)
Indian Association of Gynaecological Endoscopists. (IAGE).
Association of Fellow Gynaecologists. (AFG)
Indian Society for Assisted Reproduction (ISAR)FOGSI
Frequently Asked Questions
Where does Dr. Nikita Lad Patel practice?
Dr. Nikita Lad Patel practices at Apollo Fertility Hospital, Navi Mumbai-Belapur
How can I take Dr. Nikita Lad Patel appointment?
You can take Dr. Nikita Lad Patel appointment by calling 1-860-500-4424 or by visiting website or walk-in to hospital.
Why do patients visit Dr. Nikita Lad Patel?
Patients visit Dr. Nikita Lad Patel for Obstetrics and Gynaecology & more...
Ovulation Calculator