Dr. Abdul Basith S.F
MBBS, MD(OG), MRCOG, FRM
Dr. Abdul Basith S.F
Andrologist & Fertility Specialist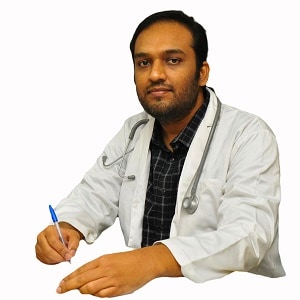 | | | | |
| --- | --- | --- | --- |
| Experience | | | Speciality |
| 13 Years Experience | | | Andrologist & Fertility Specialist |
| Location | | | Timings |
| Chennai-Anna Nagar | | | Mon - Sat : 09:30 AM to 1:30 PM |
81%Patient Satisfaction Score

Doctor Info
Dr. Abdul Basith completed his MBBS and MD in Obstetrics and Gynaecology from Annamalai Univ. He is a member of the Royal college of obstetricians and gynaecologists, London, UK. He went on to train in minimally invasive gynaecological surgery at the WLH in Gurgaon, Delhi NCR where he obtained his fellowship and diploma in minimal access surgery. He served as faculty at Karpaga Vinayaka Medical College and Research institute, Chengelpet and Sri Ramachandra Medical College and Research Institute, Porur, Chennai. He was a consultant with Madras Medical mission, Chennai and Cloudnine Hospital, Chennai. He has served as a visiting consultant at Hiba Hospital, Chennai and Mehta Hospital, Chennai. He visited the National University Hospital in Singapore and trained in Assisted Reproductive Techniques under the pioneer in the field, Professor P.C. Wong. He further completed his 2 year post doctoral fellowship in Reproductive Medicine at Apollo Hospital, Greams Road, Chennai under the T.N. MGR Medical university. He further worked as an independent consultant at many tertiary referral centres and a free lancing laparoscopic surgeon for several years. He is trained in Robotic Surgery by Intuitive Surgicals, USA. He has many publications to his credit and presented many papers in state and national conferences. He has operated / assisted/ served as organising committee for many national and state live operative workshops. He is a life time Member of the Federation of Obstetric and Gynaecological Societies of India, Indian association of Gynaecological Endoscopists, Indian society of Assisted Reproduction and American Association of Gynaecological Laparoscopy. His passion includes Fertility as well as Gynaecological Laparoscopy and Hysteroscopy.
Educational Qualification:
MBBS – Rajah Muthiah Medical College-Annamalai University, 2009
MD(OG) – Rajah Muthiah Medical College-Annamalai University, 2013
MRCOG – Royal College of Obstetricians and Gynaecologists, London, 2021
FRM – T.N MGR University at Apollo Hospital, 2018
Treatment & Services Expertise:
Fertility procedures including OI, IUI, OPU and Donor.
Fertility Enhancement Sergeries.
Fertility Enhancement Services.
Male Fertility procedures.
Awards:
2nd place in physology, unversity exam (2005)
2nd place in ophthalmology,university exam (2008)
MD-OBGYN 3rd place,university exam (2013)
2nd place in paper prasentation in Academy of medical sciences, Annmalai university (2007)
Wrote a chapter on Robotics in Gynaecology in the book-Operation in) & Gtext & Atlas by Ramesh.
Featured in Aval Vikatan Tamil MAgazine (2020)
Trainings and conferences:
Fellowship in minimal access surgery, world association of laparoscopic surgeons,2013, Delhi.
Diploma in minimal access surgery, world association of laparoscopic surgeons,2013, Delhi.
Robotic surgery training-DA Vinci training module,2013, world laparoscopy hospital,delhi.
Reproductive medicine training,2015, centre for reproductive education & specilaist traninig,national university hospital,singpore under professor P.C.Wong.
Trained in laproscopic retroperitoneal dissection,dec 2018, under Dr.Hafeez,sunrise hospital,cohin.
Iage cadaveric dissection for advanced gynae-laparoscopy, bengaluru,31 july & 1 august,2021. Conferences: 1. Faculty in the endoscopy wrokshop, AICOG 2015. 2. Faculty in the CME-OG Quest FEB 2015, Sri Ramachandra Medical College & Research institute,chennai. 3.Facult in the O&G alarms wrokshop,FEB 2015 Sri Ramchandra Medical college & Research institute,chennai. 4. Organizing committe, Engage-Gynaecological laparoscopic wrokshop at apollo main hospital,chennai. 5.Indian Association of gynaecological endocscopists:Get Endo conference,march 2018. 6. Faculty in 2nd Yuva-Iage National conference-calicut in nov 3rd &4th 2018.
Faculty in AIIMS-ARC international infertility medical comference at ITC Grand chola,gundy,chennai on 24th,25th nov 2018.
Recent advances in obstetrics,gynaecology & subfertility at Madras medical mission feb 2019.
CME on recurrent pregnancy loss: Hotel Hyatt regency,chennai, may 2018.
Faculty at EVE IAGE conference at hostel Hilton,chennai on feb 16th & 17th 2019.
Faculty Gave a talk on Antioxidants in male infetility-Erode OG society august 2020.
Faculty – Management of poor responders in IVF-webinar 21st june 2021. 13. Faculty-Panal on electrosurgery in laparoscopy, webinar in 2021.
Research and publications:
International journal of research & Reviews-Study of perinatal Outcome in term oligohydramnios Volume
issue 9, pp 308-310, Sep 2014. 2. Journal of Obstetrics & Gynaecological of India (FOGSI)- In Bag power morcelllation in laparoscopic myomectomy, May 2018.
Evaluation of uterine artery pulsatility index & pregnancy outcome in IVF cycles-frozen embryo transfers-international journal of scientific rearch, vol 7, feb 2018.
Indian Association of gynaecological endoscopists:Get endo conference,march 2018: oral paper.Bladder dissection in previous Lscs:lateral window technique.
Indian association of gynaecological endoscopists:Get endo conferance,march 2018: 3rd place quiz.
Yuva Isar july 2018 at feathers-A Radha hotel,chennai-oral paper-Hyteroscopic tubal canalization in bilateral cornal block.
Yuva Isar august 2019 agra,india-oral presentation:Does trigger to insemination time affect intrauterine insemination outcome.
Work Experience
Senior Resident,Dept of Obgyn & Infertility, Karpaga Vinayaga Medical College, Chengelpet (July 2013-Feb 2014).
Senior Resident, Dept of Obgyn & Family Planning, Sri Ramachandra Medical College & Research Institute (March 2014- Dec 2015).
Consultant Gynaecological Laproscopic Surgeon & Infertility Specialist, Hiba Hospital (July 2013-June 2016).
Fellow in Reproductive Medicine & Surgery/Registrar in Obgyn, Apollo Hosiptal(July 2016-June 2018).
Consultant Gynae-Laparoscopic & Fertility Specialist at Madras Medical Mission (Aug 2018- Dec 2021).
Consultant -Obgyn, Fertility, Endoscopy at Cloudnine Hospital (Jan 2022- May 2023).
Professional area of Interest
Obg & Gyn
Fertility Managemnet
Laparoscopic Surgery
Andrology
Professional Membership:
Indian Society for Assisted Reproduction.
Indian Association of gynaecological endoscopists.
Federation of obstetrics & Gynaecological Societies of india.
Member og Royal College of Obstetrics & Gynaecology
Frequently Asked Questions
Where does Dr. Abdul Basith S.F practice?
Dr. Abdul Basith S.F practices at Apollo Fertility Hospital, Chennai-Anna Nagar
How can I take Dr. Abdul Basith S.F appointment?
You can take Dr. Abdul Basith S.F appointment by calling 1-860-500-4424 or by visiting website or walk-in to hospital.
Why do patients visit Dr. Abdul Basith S.F?
Patients visit Dr. Abdul Basith S.F for Andrologist & Fertility Specialist & more...
Ovulation Calculator