Dr. Mala Prakash
MBBS, MD
Dr. Mala Prakash
Gynecology and Obstetrics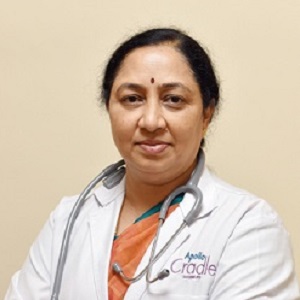 | | | | |
| --- | --- | --- | --- |
| Experience | | | Speciality |
| 29 Years Experience | | | Gynecology and Obstetrics |
| Location | | | Timings |
| Bengaluru-JP Nagar | | | Mon to Sat : 8.00 AM to 9.00 AM & 3.30 PM TO 4.30 PM |
97%Patient Satisfaction Score

Doctor Info
Dr. Mala Prakash is a Gynecologist, Infertility and Obstetrician in Bannerghatta Road, Bangalore and has an experience of 29 years in these fields. She practices at Apollo Hospital at Bannerghatta Road and Apollo CM Fertility JP Nagar, Bangalore. She is known for speciality services in In-Vitro Fertilization (IVF), Intrauterine Insemination (IUI) and Gynecology.
Professional Membership
Frequently Asked Questions
Where does Dr. Mala Prakash practice?
Dr. Mala Prakash practices at Apollo Fertility Hospital, Bengaluru-JP Nagar
How can I take Dr. Mala Prakash appointment?
You can take Dr. Mala Prakash appointment by calling 1-860-500-4424 or by visiting website or walk-in to hospital.
Why do patients visit Dr. Mala Prakash?
Patients visit Dr. Mala Prakash for Gynecology and Obstetrics & more...
Ovulation Calculator