Dr. Sonika Bawri
MBBS, MS(O&G)
Dr. Sonika Bawri
Gynaecology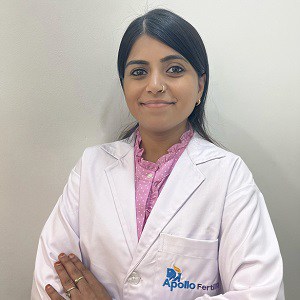 | | | | |
| --- | --- | --- | --- |
| Experience | | | Speciality |
| 6 Years Experience | | | Gynaecology |
| Location | | | Timings |
| Guwahati-Guwahati | | | Mon - Sat: 10:00 AM to 2:00 PM / On Call: 4:00 PM to 6:00 PM |
92%Patient Satisfaction Score

Doctor Info
Dr. Sonika Bawri is an Obstetrician and Gynecologist and Fertility Specialist in Apollo Fertility, Guwahati and has an experience of 6 years in these fields. She is known for speciality services in In-Vitro Fertilization (IVF), Intrauterine Insemination (IUI) and Gynecology and High-Risk Obstetrics.
Educational Qualifications
MBBS – AMCH, DIBRUGARH, 2010
MS(O&G) – SMCH, SILCHAR, 2016
Treatment & Services Expertise:
In-Vitro Fertilization (IVF)
Intra-Uterine Insemination
Ovum Pick up
Female Infertility Treatment
Reproductive Medicine
Ovulation Induction Procedure
ICSI
Male Factor Infertility
Embryo Cryopreservation with IVF
Fertility Surgeries
Hysteroscopy
Polycystic Ovary Syndrome (PCOS) Treatment
Endometriosis
Irregular Periods Treatment
Ovarian Cyst Removal
High-Risk Pregnancy Care
Professional Memberships
Hands-on training in Hysteroscopy
FOGSI recognized certificate in basic ultrasound training
Awards
Won second prize in a poster presentation at the 26th NEOGSON held in Sikkim in 2015.
Professional area of Interest
Obstetrics & Gynaecology and IVF
Work Experience
Consultant Gynaecologist and IVF Specialist, Vardaan Infertility and Medical Research Centre, Jalandhar (Experience in TVS, IUI,OPU, Hysteroscopy, Embryo Transfer) (June 2020 – present)
Senior Resident, Acharya Bhikshu Hospital (Govt. of Delhi), Delhi (2018)
Registrar, Department of Obstetrics and Gynaecology, Assam Medical College and Hospital, Dibrugarh, Assam (2016 – 2018)
Medical officer, Athkhelia MPHC, Golaghat, Assam (2011 – 2012)
Research & Publications
Adverse obstetrical and perinatal outcome in adolescent mothers associated with first birth: a hospital-based case-control study in a tertiary care hospital in North- East India
Efficacy and safety of preoperative single-dose parenteral tranexamic acid in moderately anaemic parturients undergoing caesarean section
Deep vein thrombosis in a post-partum case of caesarean section: a case report
Training and Conferences
Presented paper in AICOG in the year 2016 in Agra titled 'Deep vein thrombosis in a post-partum case of caesarean section: a case report.
Frequently Asked Questions
Where does Dr. Sonika Bawri practice?
Dr. Sonika Bawri practices at Apollo Fertility Hospital, Guwahati-Guwahati
How can I take Dr. Sonika Bawri appointment?
You can take Dr. Sonika Bawri appointment by calling 1-860-500-4424 or by visiting website or walk-in to hospital.
Why do patients visit Dr. Sonika Bawri?
Patients visit Dr. Sonika Bawri for Gynaecology & more...
Ovulation Calculator